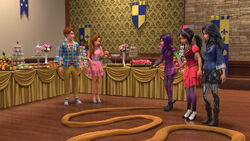 "
Her hair leaves ten minutes after she does.
"

—Audrey
Ruby is a character who appears in the Disney Channel animated short series, Descendants: Wicked World. She is the daughter of Rapunzel and Flynn Rider, and according to Audrey has long hair that grows fast in under ten minutes. Her hair is shown to be prehensile, as it slapped Audrey after she picked it up.
Trivia
In the web series School of Secrets, there is a character known as Anxelin who is also the daughter of Rapunzel. Whether they are the same character renamed or siblings currently remains unknown.
Ruby is the third new character to appear on the show.
Ad blocker interference detected!
Wikia is a free-to-use site that makes money from advertising. We have a modified experience for viewers using ad blockers

Wikia is not accessible if you've made further modifications. Remove the custom ad blocker rule(s) and the page will load as expected.